The Story Behind BEER≠BLOWJOBS
I used to believe I was the one in the wrong for not being able to detect someone with bad intentions, for giving into the pressure of an unwanted shot of tequila, for not being able to gauge my drinking limits, or not being able to protect myself from individuals who later disrespected me.
From personal interactions, what I had been socialized to believe, and from conversations with others, I thought others "taking advantage" of me was just part of life. When I did share what happened, some friends didn't seem fazed. Friends either thought the behaviors seemed acceptable or at least dismissed them because alcohol was involved. I didn't take what happened to me seriously because no one else seemed to. I didn't realize how each incident impacted my well-being.
Reality is, I've experienced multiple interactions where sexual predators used alcohol as their tool of choice to exploit and assault me.
The friend who realized I rarely drank so they kept handing me alcoholic drinks in the name of a "fun night" but with their own personal sexual gratification as their end goal.
The new acquaintance who was drinking, and I wasn't, who became disrespectful after things escalated quickly. Rather than choosing to respect me when I said to stop and tried to move away, he chose to use violence. This situation is the one depicted in my book "One of Us: Sex, Violence, Injustice. Resilience, Love, Hope."
The random person who saw me already tipsy celebrating with friends. Started chatting with only me and kept buying shots, pressuring me to take them. I woke up in a different state. In the morning, the individual acted as though nothing abnormal happened. He called for an Uber to drive me home.
Each of those situations are examples of when a sexual predator used alcohol in one way or another to commit sexual assault.
99.9% of the time, we go out with friends and have a good time with a hangover as the only negative consequence. I honestly believe that the majority of individuals want consensual and respectful engagements. I believe that we care about our friends and others around us and want to see each other happy and healthy.
I also believe it is difficult to grasp that someone we know or just met could be a sexual predator who hurts others. That the individual that we see rocking it on the kickball field could also be an individual who sexually assaults others behind closed doors. People are complex and we can't simplify them to being either good or evil.
I believe it is my responsibility to be knowledgeable about sexual predator tactics; to call out sexist or predatory behaviors before they escalate to hurting others; to listen/believe/support individuals who share their intimate experiences of being assaulted; and to be a safe person to have challenging conversations about sexual violence.
BEER≠BLOWJOBS started as a Social Work and Social Action grad school paper about tactics for a social movement against sexual violence. When I posted on social media about the shirts, friends who are university professors, bartenders, festival attendees, and the like said they wanted one.
After getting the text vetted by individuals in the field of sexual violence and by men, working with a graphic designer and printer, we are on our way of making a social statement with our fashion.
Purchase and wear a BEER≠BLOWJOBS shirt and make the statement that you:
Recognize sexual predators intentionally use alcohol to commit assault- it's not an accident.
Shift the responsibility to the sexual predator.
Believe victims. Sexual assault is common and false reports are extremely rare.
Keep an eye out at parties. If someone seems very drunk, you will get them home safely.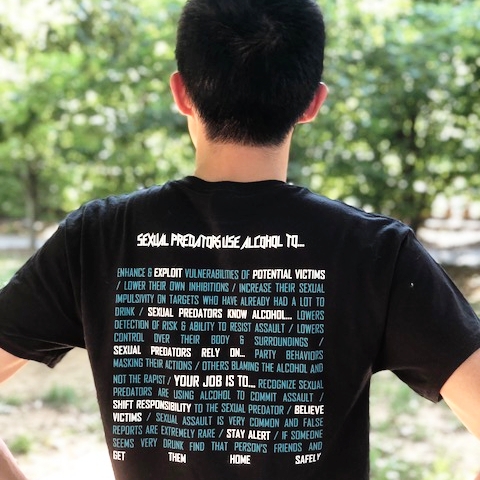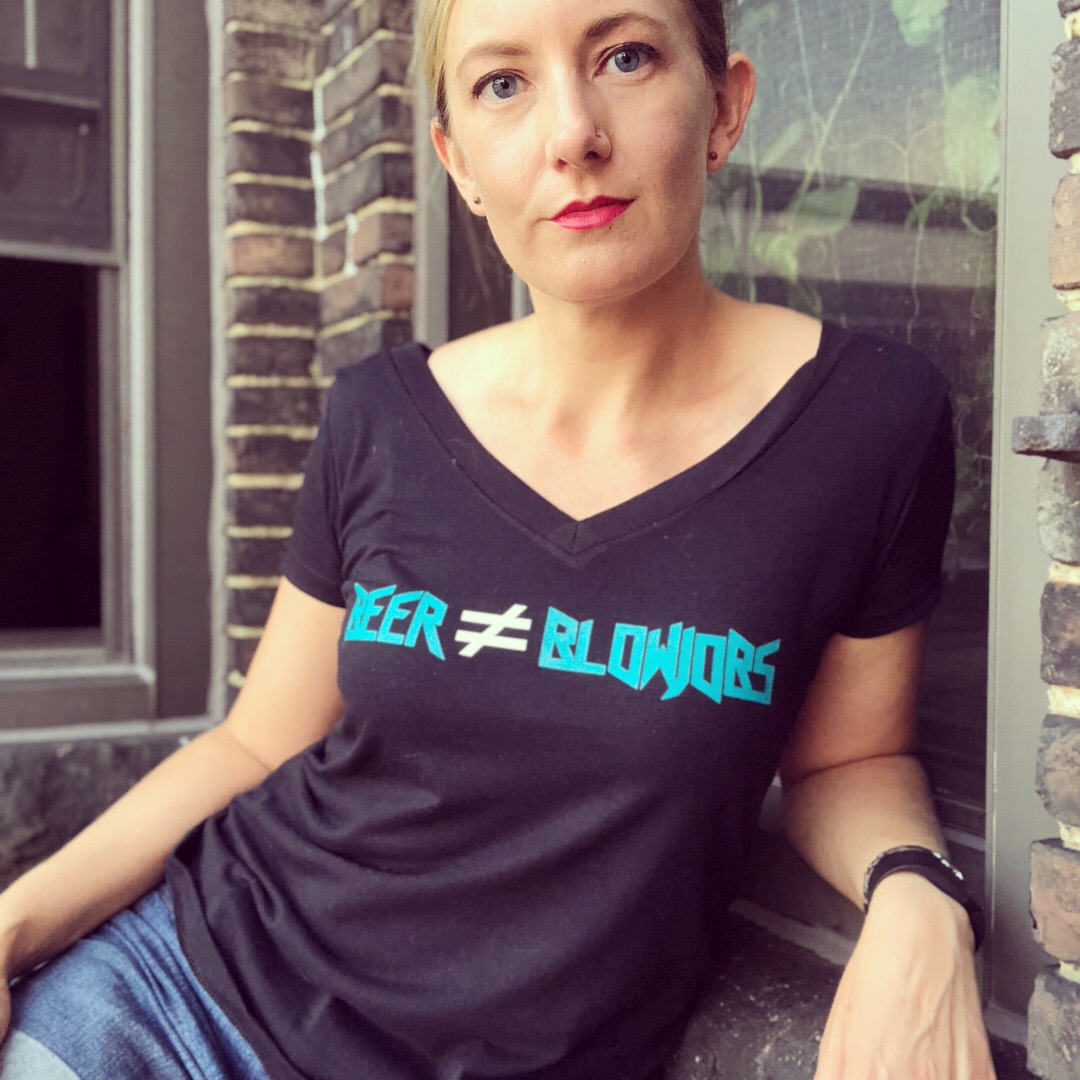 Thank you to the friends who shared their personal stories to help emphasize the importance of the BEER≠BLOWJOBS message- much love!!!
Sexual predators exploit vulnerabilities, encourages and provides drinks, and intentionally targets individuals who have had a lot to drink
The very first time I ever tasted alcohol was at a frat party. I was 19 and visiting a friend in college. We decided at some point during the night to head to another frat at a nearby school, and a "friend of a friend" from that school came to DD for us.
Long story short, by the end of the night, after being cajoled and encouraged into way more drinks than any first-timer should have, our DD sexually assaulted me. I had no idea where the friend I came with was and no way to get back to my car. So I wandered the halls of the frat house at god knows what time in the morning until I found her and we could find another ride back.
I'd like to say that almost 15 years later I've come to terms with it. I'd like to say that the voice inside that tells me it was my fault because I was drinking has been silenced. I'd like to say that I never have flashbacks and that I don't get triggered still. But I can say that my experience changed me fundamentally and I like the woman that came out the other side.
A call to intervene and support individuals as friends and as professionals
It was the Friday that spring break started. I went downtown with some friends. By the time we arrived at the second bar I was a little tipsy. We ordered some drinks and went up to the patio where I met this gay guy. It's hard to meet other gay guys in Colorado Springs so I was pretty excited.
At 22, I had never kissed anyone before and we started making out. I was told that the friends that I rode with went down stairs because they thought seeing two guys kiss was disgusting.
The guy I had just met took advantage of the fact that we were alone. He knew that I was too drunk to notice the drug he put in my beer. He knew exactly when to strike. The last thing that I remember that was real was being up against the wall of a bathroom stall hearing people saying ohhh.
Knowing all the people who saw what was going on and that could have stopped me from being raped but chose not to breaks my heart. From my friends who were disgusted by me, to the people standing a couple of feet away as he raped me. Nobody did anything.
The drug he put in my drink made me hallucinate. I was in a rocket ship in a field in midday. The reality was my friends were trying to get me into a car while I was yelling and flailing on the sidewalk. Long story short I ended up at the ER.
At the ER I was starting to come through but whatever he used to drug me was intense and I said something about wanting to die. Sometime in the early morning the drug wore off and I remembered kissing the guy and the bathroom stall and put together what happened. I explained it to the nurse but she didn't believe me. She said I had just drank too much and because of the suicidal comment I had made, they could hold me for several days. I'll never understand why a nurse at the hospital didn't believe me. I thought well maybe if they have me on a psych hold, I can talk to someone that would understand and help me deal with being raped.
But that isn't what hospital did. They sent me to a detox place next to the jail and gave me a jumpsuit. They essentially put me in the drunk tank. There were no mental health professionals. The medical professionals believed I was just a kid who drank too much so they chose to punish me.
The facility guard yelled at me for crying. I tried to explain what had happened to me the night before. He chose not to listen or understand what I was saying. I missed the next day of work because I was locked in this place.
The following day, my boss threatened my job not knowing I had essentially been locked up. I told him about being raped. He told me the rape was my fault, that I should have paid closer attention to my drink.
If your friends are drunk— stay close to them because a similar situation could happen to anyone.
If someone tells you about being sexually assaulted— help them because not believing someone who has just been broken, makes them feel so alone.
And lastly, be so careful around alcohol— rapists are smart and calculated. They know how to take full advantage of alcohol as a weapon, at least mine did.
Predatory behaviors masked by normal party activities
We had been drinking at a party to celebrate finals, and continued drinking back at my house. When he kissed me, at first it was part of the rush of the whole night. But then he pushed me down on the bed, and my stomach turned sour as he called me "baby," and I realized I didn't want to do this. I tried to say "no" but my throat wouldn't open, and as he kept kissing me I tried to turn my head away. I tried lying still. He'll get the message, I told myself. He'll understand and he'll stop.
Except he didn't. He put a condom on. When I tried to sit up and stop him I felt like I was moving through water. I had never been this drunk or this scared. Somehow -- years and years later, I still don't know how -- I sat up and croaked "no." He didn't stop at first. I said "no" again. This time, he stopped.
"I'm so drunk, baby," he said as he laughed and sat up.
"You need to leave," I said, groggily.
"But baby, I'm so drunk."
"Get out."
He grabbed his coat and gave me a dirty look. "I can't believe you're making me walk home alone at night."
A few days after that incident, I confronted him. He claimed he blacked out after leaving the bar and didn't remember what happened between us. Whether that was true or not, partying or drinking does not make sexual assault OK. Even at a celebration, alcohol can bring out the worst in people. Men need to be mindful of this if we are ever going to challenge rape culture.
University administration blamed the victim leaving the individual feeling unsafe and not supported once they came forward
He called my place of work, how he got the phone to the pool I don't know. He asked me out for a movie, I declined. He tracked me down on campus during an event at the campus fitness center. I made up an excuse about my schedule so I didn't have to engage. He asked me to lunch. Said he really wanted to take me under his wing.
I was 23 and struggling to find my place at American University. My mother was dying of cancer. This was especially important to her, but it was my dream to be a film student. I wanted to tell stories. I had no money. I was given a fresh start. And my mom's personal appeal to the Director of Financial aid made all the difference. What I didn't know then was that she'd be dead in a year. But I knew it was coming.
The Director of Financial Aid had found me an enormous amount of money and housing. After having given me the financial aid package which guaranteed my place at AU, he asked me out to lunch. I started to sense this would be an ongoing assault unless I could prove what was happening and try and stop it. I thought lunch was innocent enough.
He needed to stop at his place first. I was uncomfortable. He showed me personal pictures of him and another man in his room. He offered me alcohol. I wanted the day to be over and felt embarrassed I had accepted the lunch offer. I also felt like I had somehow secretly accepted an offer that wasn't completely obvious to me. Or I just didn't want it to be true. I'd lose everything. I felt trapped.
Our conversation seemed normal. And then at lunch he said "Kyle, you have a beautiful tan, let me see your tan line" and that was it. Nervousness turned to nausea.
A week later I summoned the guts to report what had happened to HR. He was fired two weeks later. I could no longer afford tuition. My aid package had been revoked and I was notified that the aid package I had been offered was illegal. I felt I had to withdraw. When I asked about what I could do to save my future there, I was nearly blamed by the Director of Admission for being complicit. She would do nothing to help me even though this director had been reported for his behavior before me. I was told to go back to community college and prove myself again.
I put film away for a while and immersed myself in visual arts and building new relationships. I read and find alternative ways to learn. Giving back the parts of myself that are still whole is also really important— those who don't have a place to live. What's most rewarding? Seeing a new identity in me, which grows out of awareness about who I am as a black man in a quickly evolving and divided nation where race, mental health, and abuse are at the forefront. Embracing these conversations instead of turning away has been where I find healing. I do a lot of that with pictures on Instagram.